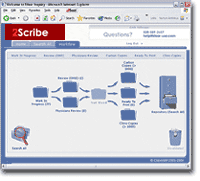 2Scribe provides immediate access to patient records from any web-enabled computer giving you clinical decision support tools where and when you need them. At no additional charge, 2Scribe archives all patient records indefinitely.
Learn how 2Scribe can lower your transcription costs.
Back to Medical Transcription Services Overview

• Flexible voice input methods including handhelds and telephones
• Electronic signatures via the Internet.
• Uncomplicated and rapid integrations with your electronic medical records system (EMR)
• HIPAA compliant platform for file transfer
• Experienced transcriptionists
• 65-character (AAMT) pricing (and other cross-linking to occur where applicable)
• Guaranteed Accuracy
• Customized turnaround times to meet your requirements